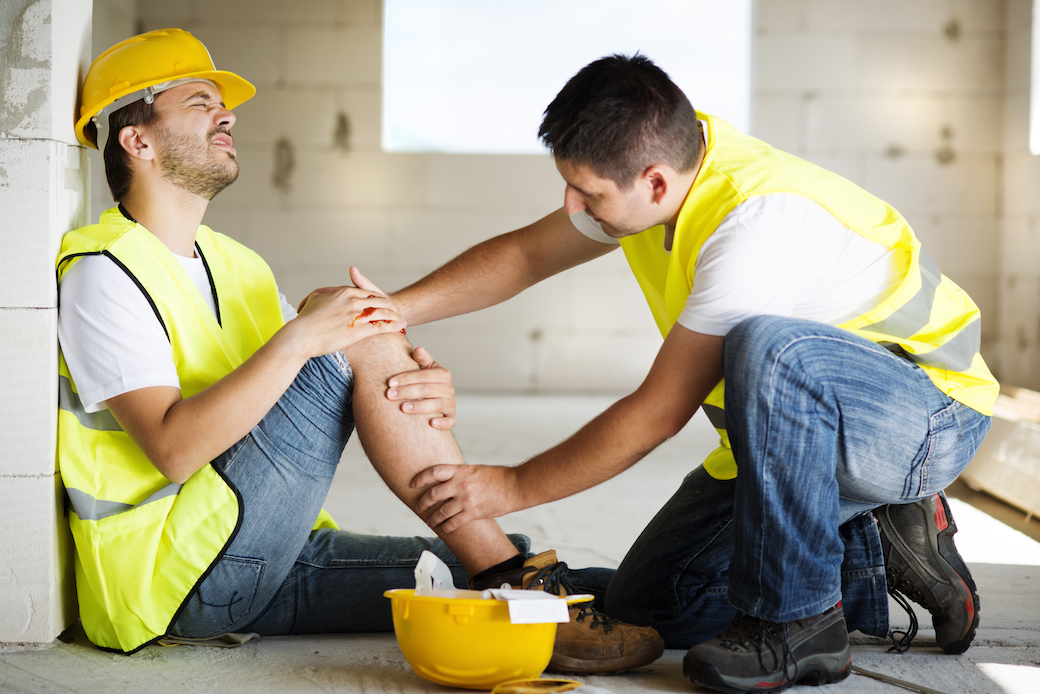 We will help you get the care you need and the compensation you deserve!
NY And Long Island Construction Accident Attorneys
Injured on a Construction Site? You Have Rights
Working in construction is one of the most dangerous and injury-prone industry's in the United States. According to the Occupational Safety and Health Administration (OSHA), over 20% – or 1 in 5 – of all worker fatalities in the U.S. in 2013 occurred in construction. Construction workers face dangerous conditions and heavy machinery as part of their career choice. However, because of the unique hazards posed by this line of work, there are tight safety regulations mandated by federal and state governments that must be followed. New York laws and regulations are designed to keep construction sites safe and protect the workers. Developers and construction companies are charged with that responsibility but too often sacrifice safety for profits by failing to provide properly functioning safety devices or by failing to inspect, supervise and/or coordinate the various subcontractors. Most of these accidents are avoidable. The labor force that built our city, its schools, its hospitals, its roadways is entitled to have the safety rules followed. The homes we live in, the skyscrapers we work in, and the stadiums in which our favorite teams play, were constructed with their sweat and tears, and need not require the sacrifice of their blood and bones.
The top 10 OSHA violations in 2014, and the industries they occurred in, were as follows:
Fall protection - in the construction industry

Hazard communication standards - in general industry

General requirements for scaffolding - in the construction industry

Respiratory protection - in general industry

Powered industrial trucks-in general industry

Control of hazard energy, lockout / tagout - in general industry

Ladders / Scaffolding - in the construction industry

Electrical, including components and equipment - in general industry

Machinery and machine guarding - in general industry

Electrical systems design - in general industry
Of the seven violations cited in the general industry, most of them occur on construction sites. The top four killers known as the "fatal four," are accidents involving falls, being struck-by-an object, electrocutions, and caught in-between accidents. When owners, general contractors, employers and/or supervisors fail to ensure that jobsites are up to OSHA standards, they expose their employees to danger.
If you have been seriously injured in a job-site accident, take the necessary steps to protect your rights by contacting Constantinidis & Associates, P.C., to speak with one of our New York personal injury attorneys.
Workers' Compensation Claims vs. Third Party Lawsuits
If you were injured at work, you are entitled to file a Workers' Compensation claim through your employer. Nearly all employees in the State of New York are covered by some form of WorkersCompensation insurance. Some of the benefits provided by Workers Compensation include coverage for your medical expenses, partial coverage for lost wages, and potential disability benefits. You are entitled to these benefits regardless of who was at fault for your accident. If, however, your accident was caused by the negligence of a third party such as the manufacturer of faulty equipment, a grossly negligent supervisor, or a negligent maintenance company, you may be entitled to seek further compensation through a third-party lawsuit. A third-party lawsuit allows you to seek additional damages covering a wider range of losses beyond what you would be able to recover through Workers Compensation.
By filing a third-party lawsuit, you may be able to seek compensation for:
Past & future loss of wages in full

Your loss of earning capacity

Physical pain and suffering

Long-term rehabilitation costs
We understand that the time immediately following an injury can be very difficult. Rest assured that we are here to stand by your side, walk you through the tough steps ahead, and counsel you in order to allow you to make informed decisions about your future. Since our inception, Constantinidis & Associates, P.C., has a well-earned reputation for tough and committed advocacy. Learn more about how our personal injury law firm is uniquely qualified to represent you after an accident.
The construction attorneys at Constantinidis & Associates, P.C., have the expertise in construction methodology to offer a jury a compelling presentation of evidence. Whether your accident involved the failure of a crane, a scaffold or ladder…whether it occurred during the use of a hoist, sandblaster, or welding torch…or whether rebar was being tied, rivets were being busted or a curtain wall was being installed…our lawyers are best equipped to litigate against the property owners, developers and general contractors.
Types of Construction Accidents Include
Electrocution

Welding accidents

Falls

Falling equipment/tools

Defective construction equipment

Fire

Chemical/electrical burn

Exposure to toxic chemicals

Trench collapse/cave-in

Forklift injuries

Carbon monoxide poisoning

Crane accidents

Machinery accidents
Why you should call Constantinidis & Associates, P.C.
Just a few of the factors that distinguish our firm:
Our experience - We have more than 100 years of combined experience between our New York personal injury lawyers. We are trial tested and know how to handle cases effectively both in and out of court. Our understanding of New York courts is extensive and unmatched.
You are not just a case file number. As a client of our firm, you will not be simply another file amongst thousands and forgotten about. Your case will be given personal attention and will be treated with the same priority and importance as all of our clients.
Our track record - Our team of lawyers have handled thousands of cases, recovering more than $ 75 Million Dollars for our clients in the process. We have proven that we are able to provide excellent legal counsel.
Our principles - The way that a firm handles cases and more importantly, deals with the client is of the utmost importance to us. Our firm is founded on the principles of honesty, integrity and proven results. We strive to maintain these high principles with each one of our clients.
Our accessibility - We always make ourselves fully accessible to our clients. No matter what time of day you need to speak with us, we will be there to listen to your needs, 24 hours a day, 7 days a week. You can expect nothing less than our full attention and resources. We understand what you are going through and are there for you.
Our reputation - We are known for our unwavering commitment to our clients' needs and our conclusive results. That is why are clients become our friends and have referred their friends, families, and neighbors to us. They simply trust us to deliver results and as such, we will not let them down.
If you or your family member was hurt in a jobsite accident, our New York Construction accident lawyers understand what you are going through and are ready, willing and able to help you fight for the compensation you deserve. Call Constantinidis & Associates, P.C., for a free case evaluation.
To learn more about our firm, or to schedule a free case evaluation, please feel free to call Constantinidis & Associates, P.C., at (844) PILAW911. If you can't come to us, we are available to travel to you.